Muskegon Senior High School
Class Of 1967
***REGISTER ASAP***
6 DAYS UNTIL OUR 55TH REUNION - Aug. 25, 26 & 27...
REGISTRATIONS (underlined newest ones): (listing Classmate names - may have a plus one)
Steve Allen

Karl Anderson

Barb (Arnson) Reynolds
Sue (Aslakson) Sturgill
Lois (Vanderwest) Balcom
Don Barnes
Laurel (Beekman) O'Malley
Sandra (Boone) Thomas
Bill Bouwman
Jim Boyle
Pam (Clark) Hall
Jim Davis
Larry Decker
Larry deJong
Barb (DeVries) Brink
Donna (DeVries) Kooi
Glenyce (Dewey) Hansen
Lynelle (Dostert) Brown
Judy (Dutmer) Spoelman
Carmen Dykema
Gussie (Fairbanks) Nowak
Greg Flaska
JoAnn (Gray) Burns
Eugene Harvey
Sharon (Hatch) Lindgren
Linda (House) Kekic
Pam (Hurst) Wolters
Mike Kolbe
Charlene (Lange) Richardson
Janet (Langeland) Dirkse
Lessie (Lewis) Hamilton
Alice (Line) Wathen
Sharon (Loftquist) Fodrocy
Jim McTaggart
Al Mell
Marsha (Mitchell) Pletcher
Pam (Morgan) Stevens
Deborah (Niva) VanKersen
Robert O'Malley
Karen (Olson) Braman
Carol (Pierce) Ross
Bob Ritcheske
Mike Roys
Evelyn (Shepherd) Whalen
Dianne (Smith) Decker
Jean (Smith) Johnson
Pam (Stanton) Van DeVeire
Joe Stapel
Brenda (Syperda) Bouwman
Judy (Townsend) Hale
Joe Urcavich
John Usmial
Ray Vanderhoevan
Kathy (Vinton) Crago
Bill Wasserman
Bob Wathen
Pam (Wolfe) Witherell
COPY OF REGISTRATION BELOW!
WE EMAILED THE REGISTRATION THROUGH THIS WEBSITE TO THOSE CLASSMATES WHO ARE REGISTERED ON THE SITE. WE "SNAIL-MAILED" TO OTHERS FOR WHOM WE HAD VERIFIED ADDRESSES.
MHS CLASS OF 1967 55th REUNION REGISTRATION
Dear Valued Classmates and Friends,
The past two years have been a rollercoaster ride! To help put them in the rearview mirror, let's look forward to marking our 55th year since we graduated from high school 1967! We hope you will join us this August to celebrate!
THREE DAYS OF EVENTS!
Thursday, August 25th
Dedication of "The M Rock", 4:00 pm: Pere Marquette Park entrance at Round-About – Media invited!
Reunion Social Gathering - Picnic-style meal at Hager's Hideaway, 4:30 pm:
Happy Hour at 4:30, meal at 5:30 pm. Location: 3156 Lakeshore Drive next to the Vikings Lodge on Muskegon Lake (extra parking in lot across street). A very casual, social evening partly indoors with outdoor tables/chairs on Muskegon Lake near the water's edge!
BYO alcoholic beverages - Mixers, lemonade, iced tea, ice water and coffee bar provided.
Price - "Early Bird" registration (mailed by August 1st) - $30 per person.
"Late" registration - $40 per person
Friday August 26th
Very popular Guided Tour of MHS, 10:00 to 11:00 am: Hosted by Larry DeJong with invited guest, Matt Cortez, MHS Superintendent, who impressed other classes on this tour! Park in lot at the home of the Old "Cove" and enter Southern Ave. front entrance.
"Pep Rally" before MHS Football Game, 4:30 pm: Fricano's on Muskegon Lake, 1050 W. Western Ave. Food/drink are classmate's responsibility. Pre-purchased tickets to game handed out, or pick up at "Will Call" at Stadium. Please consider attending even if you're not going to the game!
MHS Home Football Game with Classmates – Tickets not picked up at "Pep Rally" will be at "Will Call"
Saturday August 27th
Informal Brunch at the Channel Pavillion - Pere Marquette, 10 am to noon: Reminisce with classmates! Coffee, juice, donuts, plates & utensils provided. Donations of brunch-style foods welcomed! Bring your own chairs!
Note: City collects $10 daily parking fee payable @kiosks. You may want to spend the day at the beach!
~~~~~~~~~~~~~~~~~~~~~~~~~~~~~~~~~~~~~~~~~~~~~~~
Committee Members: Steve Allen, Lois (Vanderwest) Balcom, Bill & Brenda (Syperda) Bouwman, Karen (Olson) Bramen, Barb (DeVries) Brink, Lynelle (Dostert) Brown, Larry deJong, Carmen Dykema, Greg Flaska, Robin Howard, Linda (House) Kekic, Dave & Donna (DeVries) Kooi, Sharon (Hatch) Lindgren, Al Mell, Carol (Pierce) Ross-McRoberts, Char (Lange) Richardson, Judy (Hale) Townsend, Joe Stapel, John & Barbara (Irwin) Usmial, Pam (Stanton) Van deVeire & Jim McTaggart
(Call 231.557.8844 or email jusmial@aol.com with any questions or concerns)
~~~~~~~~~~~~~~~~~~~~~~~~~~~~~~~~~~~~~~~~~~~~~
REGISTRATION FORM
Name(s)____________________________________________________________
Please fill out and mail for early Bird registration by August 1st – $30/person.
***Late registration (after August 1st) -$40/person
***Make check payable to "MHS Class of 1967" and mail to:
Brenda Bouwman, 704 E Apple Ave, Muskegon, MI 49442
__ # of persons attending Reunion Social Gathering/Meal Thursday August 25th at $30 each Total_______ __# of persons attending Reunion Social Gathering/Meal (late registration) at $40 each Total ________
__# of persons attending MHS Tour Friday August 26th INCLUDED
__#of persons attending Friday night Home Football Game with Classmates at $5 each? Total ________
__# of persons attending Informal Brunch at Channel Pavillion Saturday August 27th INCLUDED
I wish to donate to defray the cost of food for Informal Brunch on Sat. August 27th Donated amount: ________
Total amount enclosed: ________
--------------------------------------------------------------cut here & mail with check-------
If unable to attend, send any contact changes of address/email/phone so we ALWAYS stay in contact!
GO BIG REDS!
Note: Please check websites listed below for additional events posted after the printing of this document!
THINGS TO DO IN MUSKEGON - Courtesy of the Shoreline Visitors Guide & Muskegon Chamber of Commerce
Muskegon is the ultimate outdoor playground with inland lakes, miles of Lake Michigan waterfront & miles of rivers, woods, and dunes. It is one of the largest shore communities along Lake Michigan with a population of 40,000 residents. Once a major source of timber, it remains a tourist destination for its state parks, beaches and large historic homes left behind from the lumber giants. Monet Gardens of Muskegon, once a vacant lot, recreates gardens in Giverny painted by famous French artist, Claude Monet. Muskegon State Park is a popular destination for water lovers. Michigan's Adventure Amusement Park and Wild Water Adventure Water is nearby.
Lakeshore Museum Center – Featuring a History of Brewing in Muskegon www.lakeshoremuseumcenter.org
Muskegon County Museum – Focuses on history of region, including logging & early Native American inhabitants
Muskegon Museum of Art – Featuring works by Edward Hooper & Picasso's Mistress, Francoise Gilot www.muskegonartmuseum.org
Muskegon Farmer's Market in Downtown Muskegon – Every Tuesday, Thursday & Saturday, 8am – 2pm
Central Business district with breweries, distilleries, restaurants, sculptures, public art, murals & the Frauenthal Center.
VanDyk Mortgage Convention Center linking the Mercy Health Arena (previously LC Walker Arena) www.visitmuskegon.org/convention-center
Self-checkout Bike rentals outside the Union Depot!
Lakeshore Bike/Walking Trail to Pere Marquette Park or North Muskegon & connector to Montague Hart Trail
Courtesy of: www.muskegon.org and www.visitmuskegon.org
A FEW LOCAL HOTELS
Hampton Inn – 231.799.8333 Baymont by Wyndham – 231.798.0220
Fairfield Inn & Suites – 231.799.0100 Delta Hotel by Marriott – 231.722.0100
Shoreline Inn – 231.727.8483 Rodeway Inn – 231.733.2511
Quality Inn & Suites – 231.739.9092
THE BOULDER (aka The Rock) WAS PLACED @PERE MARQUETTE PARK THIS MORNING. DEDICATION TBA AFTER SEPT. 14TH GATHERING! Do you recognize any of the people in the picture?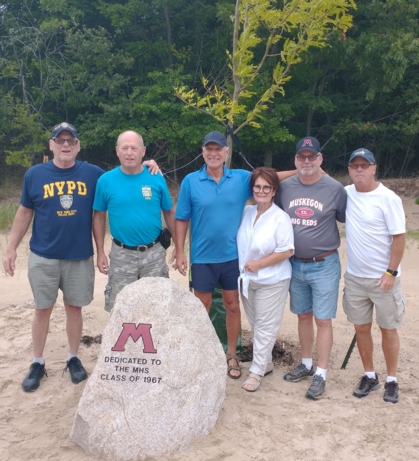 Joe Staple, Bill Bouwman, John Usmial, Pam (Stanton) Van DeViere, Steve Allen & Larry deJong
WE HOPE YOU ARE ALL DOING WELL, and we look forward to gathering once again with all our Classmates. And remember, this reunion will be much more subdued and will be designed around increasing the ease of socializing and catching up with friends.
50th REUNION SLIDESHOW TAB
- 4TH ON LEFT MENU -
Nostalic pictures,
pictures at Reunion &
Slideshow of those
who are no longer with us...
This website was created by your classmates to assist with organization of reunions and special events like our 70th Birthday Party in 2019! This is a place just for you - to reconnect; to keep in touch with everyone; to obtain the most up-to-date information; to share memories; to create new memories; and to let everyone know what's changed and what's stayed the same. PLUS THIS WILL BE YOUR MAIN SOURCE OF INFORMATION FOR FUTURE REUNIONS!
If this is your first visit, here is how to get started:
Click on "Classmate Profiles" tab near top of left menu bar
Scroll to find your name & click on it
Now follow prompts to fill out your profile and/or make corrections to contact info
If your name is not listed, use "Contact Us" tab to notify us and we can add your name (you may have graduated late or left for another school in your senior year and wish to attend our reunion)
Supply your home address (for snail mail invite); your email address (for quicker contact); and your phone number (if we have any questions). PLEASE NOTE - ONLY ADMINISTRATOR CAN ACCESS THIS INFORMATION!
We encourage you to upload a recent photo and/or any other photos in your profile
IF YOU ARE A VISITOR, i.e., faculty, family, friend or other MHS Alumni and would like to see more of our website, simply send us a message and we will contact you
Once your profile has been created, you will have the option of contacting any person through this website if they have registered. AND, the great part is your email address is protected - it is kept private. If you have any questions feel free to contact John Usmial (jusmial@aol.com)
NOTE: If you would like to contact a classmate but have not registered/created a profile, we may be able to help. We keep info confidential, but if you contact John Usmial (jusmial@aol.com), he can email the person you are attempting to contact and they can decide whether or not to contact you.
The reunion committee has been meeting regularly for many years. The current committee consists of Bill Bouwman, Brenda (Syperda) Bouwman, Sharon (Hatch) Lindgren, Carmen Dykema, Karen (Olson) Bramen, Carol (Pierce) Ross-McRoberts, Judy (Hale) Townsend, Linda (House) Kekic, Barb (DeVries) Brink, John Usmial, Pam (Stanton) Van deVeire, Al Mell, Joe Stapel, Char (Lange) Richardson, Robin Howard, Dave Kooi, Donna (DeVries) Kooi, Lois (Vanderwest) Balcom, Larry deJong; Lynele (Dostert) Brown, Steve Allen, Greg Flaska and James McTaggart (who was always a member of Committee, but missing from this list too long!). Others who wish to help will have their names added as they come forward.
JOHN USMIAL, 50TH REUNION CHAIR & by default, 55th Reunion Chair - jusmial@aol.com or 231.215.6223